technique
Creating the Yates Millpond Ecology Mural
It was to be a grand scene. Plants and reptiles, fishes and birds, insects, amphibians and a mammal or two all busy at the millpond! Painting life above and below water — what a fun mural to create!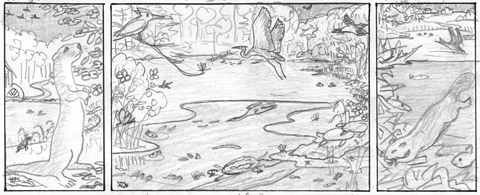 Early sketches
Getting it all done in two months during winter was difficult, because I needed to illustrate summertime. I usually hike around and draw lots of on-site field sketches, jot down notes and take reference photos to use back in my studio where I create my ink and watercolor habitat illustrations. For this project, I had to transform my brown winter references into green growth and flowers.
However, I live near and love the Historic Yates Mill Park, and I had good help. The park managers presented me with a clearly defined task, detailed lists of species and of habitat variations, photographs and great on-site visits. They, and the exhibit designer, reviewed my compositional designs and we worked out all of the changes desired before I created the finished art works. The curatorial staff at the North Carolina Museum of Natural Sciences provided me with appropriate animal specimens to draw, and accurate information about many of the animals featured in my mural.
I painted three separate scenes. The main mural features a cut-away scene of millpond life in the summer. The particular species featured are all found at Yates millpond located in Wake County, North Carolina. Each has a fascinating life story. I framed the large summertime mural with two smaller illustrations. One is a wintertime illustration of the beaver near her dam and pond located upstream of the millpond. The other is a springtime scene featuring water flowing over the milldam into Steep Hill Creek where an otter has snagged a fat creek chub.